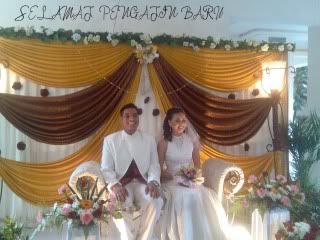 the wedding ceramony was awesome[:
the newly wed have been together since they were 13yrsold! coool eh.
the days were filled w laughters&all w little kidssssss!
there's this little firah which is uber cute& pretty.
& i swear, she's got the potential t be a model.
sadly, her pictures isnt w me.dang~
i'm still waiting for job's calls& im still deciding whether
t take up that french course.mother agrees when i sound it out t her[:
but i'm so not gonna learn french alooone.
maybe i ll get fadhil t do it with me.& that's if that cuckoohead is interested
rawrrr, ding-dang-dong!
but whetevr it is finding job is still number 1 on my list.
im learning french sooon but not so soooooooon.
i just need a company, & i'll be ready-set-go!
i'm goona highlight my hair purple soooon.shithead.
im bored, that's it.
dear-dear where are you?
i'm so bored&i miss you.rawrrr
its been raining lately.
when is the sun ever going t come up?
ps;i miss boyf alot& i owe him 5 bugs! haha