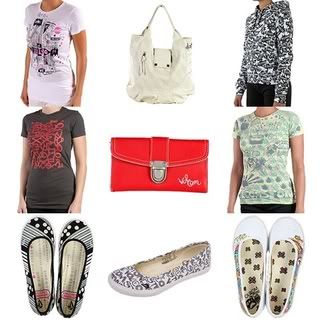 Ahhhh so not fair.I want t travel to the states to buy all this stuff home.
S'pore Volcom mostly contain guy's stuff & the girl's stuff ain't that pretty here.I'm still not done with shopping yet. haha, there's still 50 bucks in this leather wallet & i feel like spending it all at once. Yet i feel so reluctant because in a blink of eye there will only be dust left in the pretty leather wallet. Allright, haha the contradiction.& also, i've been persuading th guyf to help sell this roxy sling bag tht i bought on impluse to his sister. Rahhhh, but he doesnt want): Well, it's ok i will just put it in the museum at the storeroom & let it rot there.
Basically, life's been pretty goood. Except for this throat of mine.Cough is getting worst & i cough like there's no tomorrow, haha & Eeeek i so dislike th cough mixture taste like _____. i'm suppose to accompany Amirawr shopping today but due t this shistasticfantasticbombastic cough, i'd to give it a miss. Sorrry, Next time ok i promise.
Oh oh & i went to this wedding ceromany thingy beside the father that saturday night. & the pelamin (or whatever you call it) is so pretty. And and and there's this one guy there seems real familiar. Like i've seeen him somewhere, like i've known him for more than 10 years,like Ahhhhh shuddup. Dejavu, haha.
Madrasah on Sunday was pretty funny. & we'd to memorise 16 lines for oral. When i've only memorise 4 line. Screw it. How? How? How? I suck at memorising. :/
I've somehow re-link people yet again after so many decades. Somehow maybe i'm gonna take it away two/three days later. hahaha, nonsense. & i'm craving for so so many things like a pregnant woman now. Like caramel frapp, takoyaki, MCD, LJS, donuts, & & & VIVOCITY AND FAR EAST PLAZA. WTH right? //hahhahaha.
Looook the pretty pelamin that i was talking abt: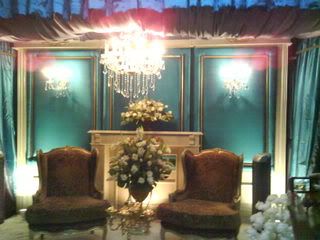 & guyfriend send me this online.He design all this. Hahaha kidding
& i love this. so pretty yo!It cost 1.5k
haha, i want to be a wedding planner when i grow up!hahahaha. i was bored thus decide to post all those pictures.