Ahhhhh nooo. Why David Cook?!! Dammit. Archuleta freaking text me yesterdy telling me he'll win! But now, look what happen? I dont want friend him anymore ahh. haha wthh Maya -.-'''''
Anyway Graphic Design lab test turn out t be pretty fine ;D Thank God i got quite an easy picture & that is the rocking chair or whatever it is call. So here are the photos:
And finally the outcome turn out t be like this:

i wasn't satisfied actually because like suddenly there's one fcuking black dot mole at the left hand side there.Uhhh, & whats more time is running fast, so yeaa i just submitted }:
Break soon after followed by lectures. And as a standard girl thing, we did this before the lecturer arrive, haha. presenting the havent-famous-yet Superstar , Shili;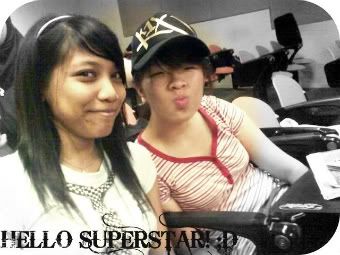 Notice something? I've been growing dimples kan kan? And also fattter(?) I ate alot nowadays & i think there's a monster in there or something. The other time I had 2 freaking set of LJS meals. Wthh right? But that would stop Sera from nagging me to eat more because she's forever going "Maya! Eat more ahh you so skinny. " Okay chopchop, Data Comm lab afterward, I wasnt paying much attention as I was busy concentrating on eating -.-"' haha, & the Wayne will go "I smell fooooood " and i will go " where got? " And then I will continue eating behind the computer screen, ahhh pardon me for typing this kind of nonsense shit out but i'm hella bored.
& here's what Wayne did when everyone eyes was busy on th comp screen instead of the whiteboard when he's teaching: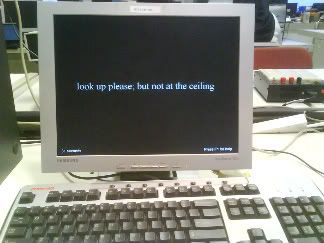 And here goes the last photo of the day;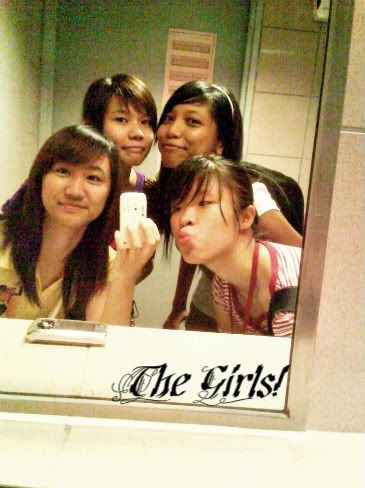 LOL. I'm waiting for JB to appear in American Idol nowwww but but but where th hell are they? Hurrrrrry come out ahhh. -.- okay Joe text me already! They are coming out in uhh 10 seconds time! hhaha. Ahhhhhhh, I have dark eye ring just now due t lack of sleep & its all tht dearest mat salleh fault.Tmr Friday like Yessssaaaaaaaaaaa ;D School from 10AM till 6PM, Grrrr, how boring.