I'll Stand By You,
Always And In All Ways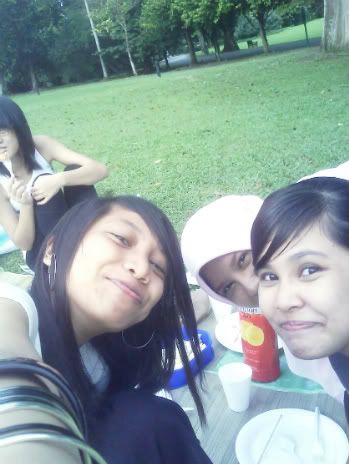 I was being fickle if I should attend today's religious class. I was dead tired and lazy even though I went to bed as early as ten th previous night. I remembered Ustazah telling us to attend this week if not she will give us a big fat zero for the oral. No other choice, but to attend. Things turn out otherwise; no oral or whatsover. Lesson today was pretty funny. With all those dikir barat recording and stuff, haha.I guess oral exams will be postpone till the week after next since next week is a celebration for Hari Raya and the graduating classes had to perform.I was already planning not to come but I shall see again when next week arrives.
A few days back, headed tampinese with th bf to break fast. The day didn't went that well. Many shitty stuff happen to us or rather me! We were dining at food culture and this very freaky old man was asking me if he should take away our cup and I freaking say NO. He walk away and minutes later he came back wanting to take away the cup and I pratically look at him. And for all I knw, the next moment he was scolding at me like WOAH!I was super afraid by th with his big goldfish eye and fucking curly moustache(?) and freaking face. On top of that, I trip but not fall for god knows how many time. Damn, what a day. Something funny to add on, we saw an old man(read:apek!) wearing th same topshop shirt as the bf, LMAO!
For once, you left me dumbfounded. Seriously, I don't know what is in your mind. Nevermind all that, just focus on the important examination and make sure you ace it. All I know now, Febuary the fourteen won't be the same anymore. All the best in whatever you do.Just so you know, I will always be there for you whenever you need me.(: