Second week of school passed fast like
BOOMZ
. Two week of school was madness. Really tiring.. Totally not used to sleeping early, waking up early, going to school like a walking zombie and feeding my brains back with disgusting and boring stuff. Only two weeks and I've already skipped a few lab lessons. This is bad, way bad.
Note to self : Stop being lazy + influenced by people around you and love school a little at least.
Ditched WPDP lab on Monday and headed to Ikea. Feels good somehow having two person to rant and whine at the other day. But Thank God, everything is going smoothly
for now, at least
<: Anyway, Ikea was good. If only I have my own apartment now... Got the stuff we wanted and till now, I've yet to get my hands on them and do something about it. I need some motivation and inspiration to get started, maybe tomorrow. Staying at home doing pretty stuff on a Sunday sounds good, yes? Tuesday feels like a Programming day. Totally hate it >( Wednesday was heading home early to have a short nap. Spells shiokness please. Thursday was an okay day; Marketing elective ended early, as usual. Talking about elective, I somehow miss studying German now ): Omg, didn't realize I've been studying that language for a year and a half. At least I've got a chance to study foreign language <: & goody news: There's no elective next week. This means having lessons from 8AM to 12PM, Yay be jealous okay ? If you've been following my twitter, you would already know that I've had B&J after school yesterday. Now now I feel that having twitter and plurk totally defeats the purpose of blogging. Agree? Treated S delicious stuff since we've already promised her. I want Gelare waffles, thinking about it almost make me drool now.
And, now that school have reopen, I'm leading a daily routine life. Haven't been having a proper date with
♥
Short meet up, having dinner together, sharing stories on what happen in school everyday isn't that bad actually. Just that I miss going to interesting places and exploring Singapore like we used to. Too bad, Singapore ain't that big a country and there's not much thing to do ):
Sister's EOY result spells jaw droppingly
BOOMZ
. She make me feel god damn inferior ): This is no fair, the mother and father should divide the amount of intelligence equally between their two daughters whattttt. tskkk, lol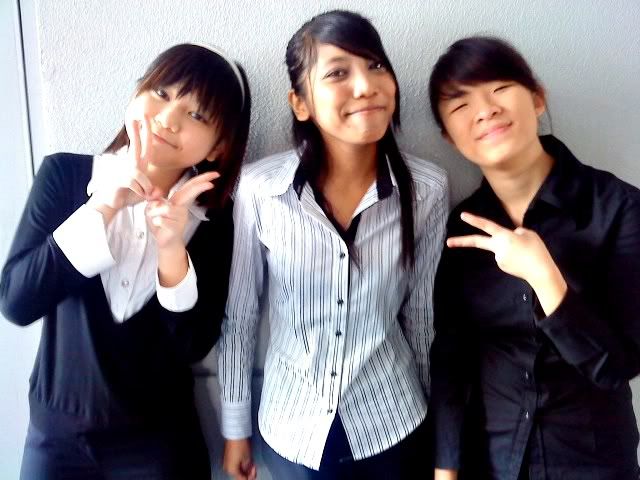 Well, not forgetting these two girls turn a year older recently. Let's all go through poly life together, let's stay strong and happy together. Whatever happens we know we've got each other back.
♥ Let's all remember this:

Sunshine after the rain