What do you get when you put two girls who is having relationship problems with their own boyfriend and a boy who is missing his ex-gf and depress about his flat hair?
3-emo nemos loitering together. So, the plan was to go to the flea and having Ben&Jerry. Flashbang @ SG Flyer suck balls. Pretty much nothing there except there's this pretty girl (host of the event I think) who is damn friendly and we strongly suspect that she's a lesbian coz she is always seeing and talking to me instead of the only guy there.
Made our way down to Marina Square and you guess what we did there? Daytona at the arcade. Uh huh, we look like some deprive kids that need to have some fun and laughters badly. Just thinking about this make me mad. Y'knw when the time hit '0' I stopped stepping the accelerator and Missy S' car drove past me and then she turn out to be the winner. And then my hand auto slap her arm. If you were me, I'm sure you will do more than that, arghhhh! Aftermath, we walked to The Cathay for the awesome Ben&Jerry. As we were walking, we saw so many couples and ....

M: Sigh! It's a Saturday. Every Saturday would be our day you know.
S: Yeah. Mine too. Sigh
H: Oh no wonder today y'all can come out with me coz y'all fight with your bf/s.
S: Yeah la. If not we won't have time for you.
M: Yeah you are like our sidekick. You have to wait for us to fight with our bf/s then we can go out.

That convo was so funny. Might not be funny to you but it was funny to us! Anyway, it's our 2nd trip there together and we choose the same old place which is the one with the uber comfy sofa. Once you sit on it, I assure you wouldn't one to stand up.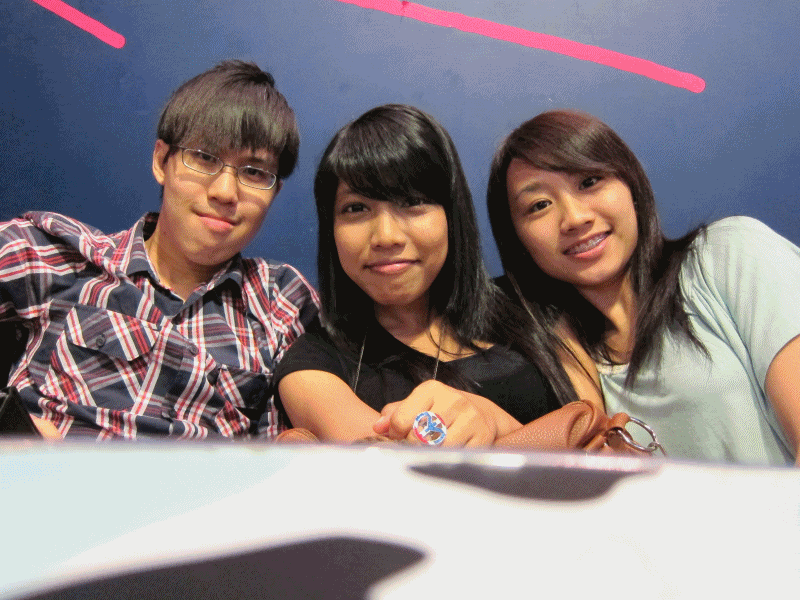 What do you get when you put three full tummies together on a comfy sofa with a Canon camera?
A canon-whore moment!
We are such great actors I must say. We acted like we are in some phone advertisement and like we are happily talking to each other when we are just "yaaadeeyadddeee"-ing. And Missy S is so funny she can't decide if she want to do a 'calling' or 'texting' pose and Mr Lee is forever complaining about how flat his hair look like. Such funny friends I have. We look so happy at the photos and we are happy when we were
cam
canon-whoring (despite some of the sad songs that were played at B&J) So I can conclude that CAMWHORING KICKS THE EMO AWAY. That is if your company consist of fun people, like mine is! ♥